You made the decision to start something on your own. You have a great product concept and are itching to get your business off the ground.
You should concentrate on developing your product's strategy, making commercial relationships, and breaking into an overcrowded market. Everyone should concentrate on what they do best, and software product creation should be left to professionals.
Who can you entrust the development of your product to? With whom should you form a partnership? Should it be a software engineer who works on their own? Or an entire company dedicated to web development?
If you're thinking about these or other comparable questions, keep in mind that there is no one-size-fits-all option.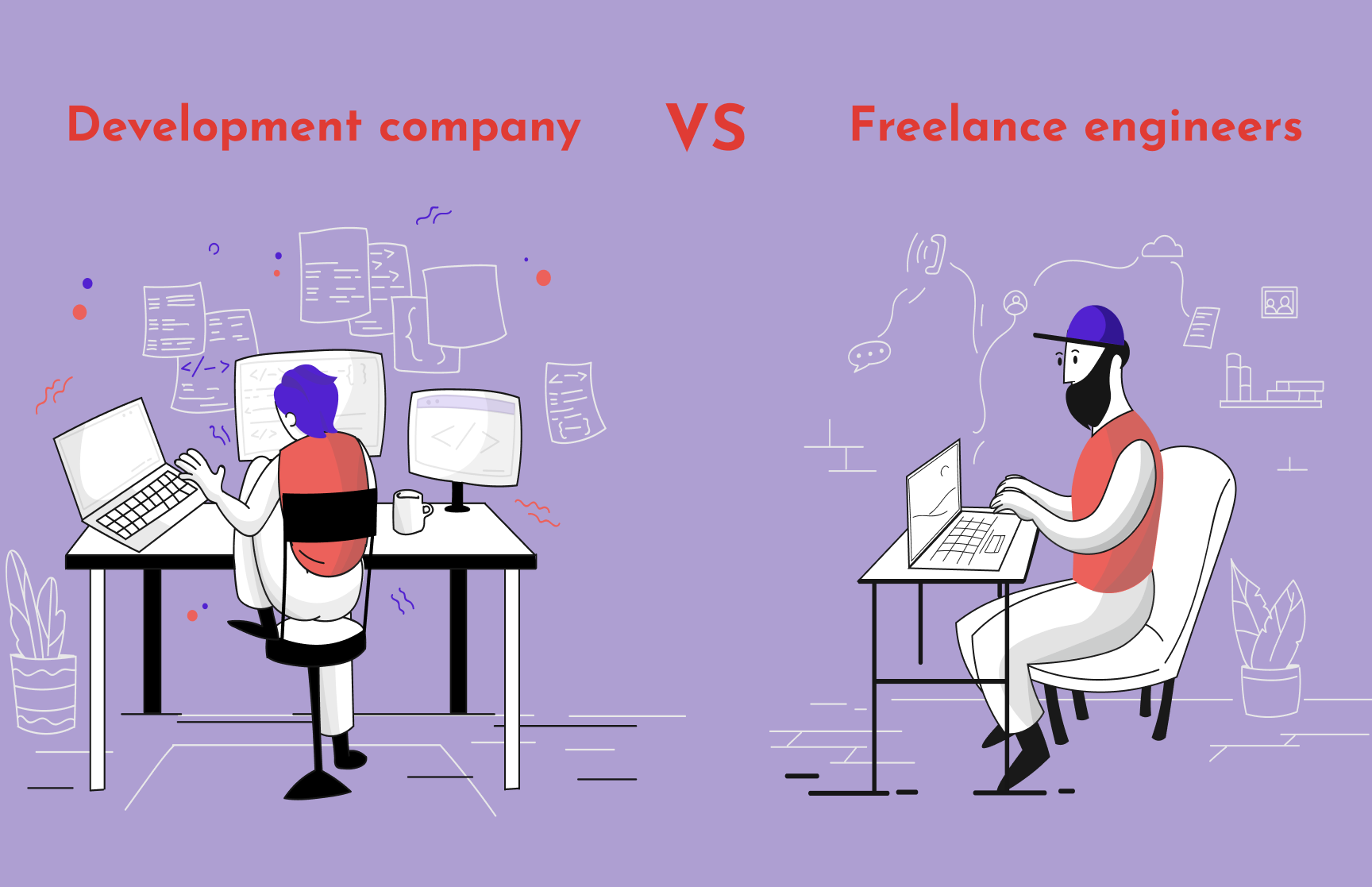 Let's go deeper into the problem to see whether we can answer all of these questions appropriately. The following are some of the key distinguishes between development companies and freelance engineers: 
Rates
Development Company
An agency's services are typically more pricey. Higher prices may appear to be a significant disadvantage at first glance, however the pricing is very dependent on the agency's location. Hiring a firm from the United States or Western Europe will set you back an arm and a leg, whereas Indian firms are offering ridiculously low rates.
Eastern European firms fall somewhere in the middle. Companies in this region provide highly skilled developers at moderate prices, ensuring that you do not overspend. Agencies represent an excellent quality/price ratio for a company because they provide full end-to-end solutions. You will also save time and money by working with an agency because you will not have to manage and lead a group of distributed freelancers.
Freelance Engineers
The majority of freelancers charge lesser prices than software development companies. Furthermore, you will not be responsible for any overhead fees such as office supplies, health insurance, banquets, or other incentives. Freelancers appear to be a cost-effective solution. This may appeal to your business if you have a limited budget, are waiting for funding from investors, or need to create a single feature. Hiring a slew of freelancers for various aspects of your project, on the other hand, could be prohibitively expensive.
EXPERIENCE
Development Company
Companies that specialize in software development have a lot of experience working on complex projects and frequently have well-honed workflow practices. Additionally, software agencies are always changing and keeping up with current software trends and new programming languages, which can translate into better, more modern solutions for your project. If you prefer a more formal approach, hiring a software development company is a great plus because all you have to do is communicate with project managers, approve completed work, and wait for the next phase of your project to be developed.
Freelance Engineers
One of the advantages of employing a freelancer is that they are frequently more personalized specialists that meet a specific vision of the ideal applicant. Freelancers frequently have specialized knowledge in one field. Before hiring one, look over his or her portfolio to see what he or she excels at. Some freelancers portray themselves as jacks-of-all-skills, yet we all know that no one can be a master of all trades. Freelancers are appropriate to hire for one-time assignments or unique jobs. Hiring a freelancer, for example, is a viable alternative if you want to add a feature to your mobile app or build a website.
AVAILABILITY
Development Company
Schedules and workflows are always in place at agencies. Teams work from 9 a.m. to 5 p.m., with overtime as needed. In addition, if one developer is momentarily absent, another member of the team steps in to fill the void. In established teams, well-tuned procedures help members stay organized and fulfill deadlines. Just make sure you're in the same time zone or have enough overlapping hours to interact with project managers, make adjustments, and discuss your startup's deliverables.
Freelance Engineers
Freelancers value their independence, which is why they want to avoid office life and norms. They make their own timetables and decide on how much work they do. Freelancers typically work for a variety of clients, so be prepared if they are unavailable when you need them. If you need a rapid add-on to a project, for example, your freelancer may have already started working for the next customer, become ill, or gone on vacation.
Their working schedule is frequently dependent on when inspiration strikes: they may work during regular business hours, late at night, or even on weekends and holidays, and you will not have complete control over their calendar. Nonetheless, in the event of a time crunch, this flexibility might be extremely useful.
 
QUALITY
Development Company
Software development companies, on the other hand, place a premium on building long-term relationships with their clients and maintaining a professional reputation. They value quality over quantity, which is why they put so much time and effort into building trust. They attempt to offer the highest-quality service possible in order to exceed their clients' expectations, receive positive feedback, and have them return for future product development. For example, if you hired an agency to design your mobile app and something went wrong unexpectedly, the team will bend over themselves to resolve the flaws. Furthermore, agencies can provide full-service solutions for startups, from concept to design to front-end and back-end development.
Freelance Engineers
Even while there are many highly qualified professionals among freelancers, some of them are solely concerned with getting the job done, receiving paid, and moving on to the next client. They may desire to complete tasks as rapidly as possible since more clients equals more earnings. Quality may not be a concern for some freelancers, therefore you must be extremely cautious when selecting a contractor for your startup. Examining their portfolios for relevant projects, browsing their portfolios on resources, and reading feedback will assist you in identifying someone with a good reputation and track record.
ACCOUNTABILITY
Development Company
One of the most significant advantages of choosing an agency for your software development needs is that they oversee the project between the customer and the engineers to ensure that everything runs properly. They can keep track of the hours worked, the quality of the work, and the client's comments to ensure that everything works well. Checking in with multiple different freelancers individually is far more difficult than going through one project manager who oversees the entire team of engineers. Furthermore, if something goes wrong, a solid, respected agency will have an easier time replacing staff, and an agency is often better suited to deal with problems. One of the most significant advantages of employing a software company versus a freelancer is the increased level of security.

Freelance Engineers
Because most freelancers rely on word of mouth to find clients, they aim to execute a good job. A freelancer, on the other hand, is much more difficult to hold accountable than a software development company. Some freelancers are too preoccupied with other projects to work on your timeline, and not all freelancers are concerned with the quality of your product. Furthermore, most freelancers work on a job until it is completed before moving on to the next. This means that if you discover any defects or issues with the product after it has been completed, you may not receive any assistance or maintenance from the company who hired you.
MAINTENANCE
Development Company
You must be concerned about the future of your company. You may expect product maintenance from an agency, which includes bug repairs and upgrades, creation of new functionality, and ongoing product support. You'll also be able to work with the same team that created your product and knows it like the back of their hand.
Freelance Engineers
Freelancers finish the project and move on to the next client. That is the most common scenario. It may be difficult to approach them after the product has been released to address bugs or make additional changes to the final product. Even the most experienced coders will have to update and fix their code from time to time. In addition, freelancers frequently demand additional compensation for any work done after the launch. You should always explain the possibility of future maintenance when employing a freelancer.

WHAT TO BE SUITABLE FOR YOU?
Freelancers are easy to hire for a specific project or task that necessitates their expertise. For difficult long-term tasks, employing a software development agency is preferable. The greater the crew, the more intricate the project is. Freelancers may appear to be less expensive than agencies at first look, but they will take up more of your time to manage. As a result, hiring a company may end up saving you money in the long run.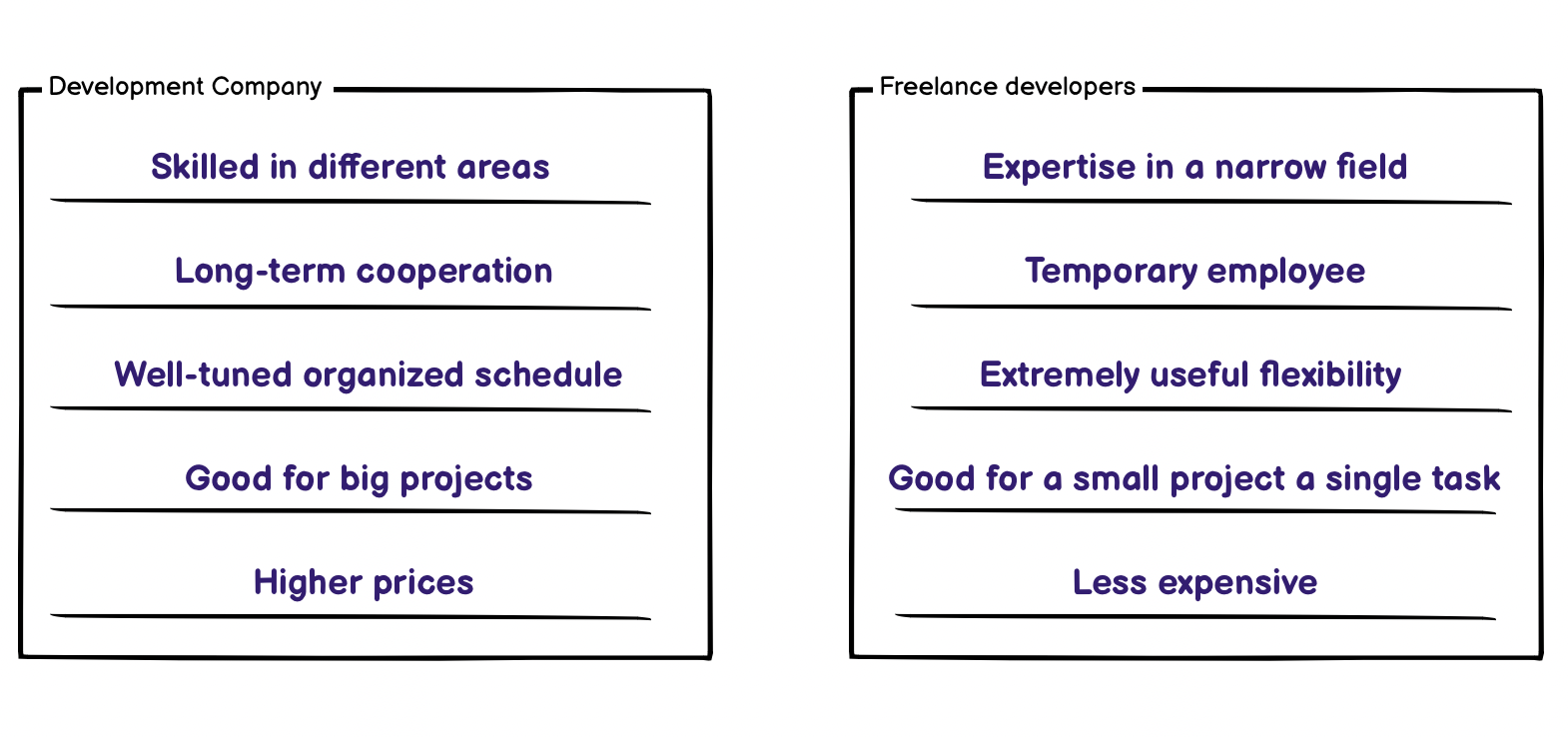 If you're convinced you want to hire a freelancer, the Devler.io platform can help, and you can rest assured that it only lists vetted software professionals.
If you prefer to go with a software development company, Innovation Feel can offer you a team of experienced developers; simply contact us and we'll keep in touch.